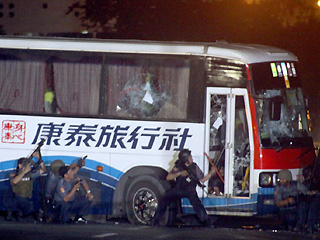 It could have been Manila's chance to prove it's world class. Instead, we broadcast live to the world our laughable SWAT -
Silang Walang Alam sa Tactics
who went
Sugod, Wait, Atras, Takbo Tayo'y Takot.
The police mishandled all aspects of the case from the hostage taker's gripes to the televised carnage and it's aftermath. There were comic relief moments in the tense assault. They took a long time to smash the bus windows. Either the windows were the toughest plexiglass or they used the softest sledgehammers.
Naghiraman pa sila kasi parang iisa ang maso nila.
Then twice, cops lost their grip on the sledgehammer, hurtling it into the bus.
Parang
comedy. I think I heard them laughing on TV.
The excuse they gave PNoy was untenable. PNoy said the the police had to do a hasty assault since the unit that had the capability was not close to the bus. Whoever fed PNoy that line did him a disservice. They had the whole day to bring in the unit that had the capability. They bungled it. Period.