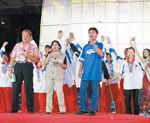 What's wrong with GMA wringing out all political mileage out of the PacMan euphoria? Here's what's wrong. It shows that we have sunk so low because no good news have come to us for months. So, the administration has to use Manny's feat to remind us that Filipino are capable of being great. And because the politicians want to bask in the glory, they imposed hours long traffic jam on us last Friday.
Hindi nga maliit na bagay ang panalo, pero pinalaki na yatang masyado para ma-picture lahat ng kaalyado
.
That GMA took the opportunity to have herself on the same stage with PacMan, the honest little girl, and the beauty queen, is also wrong. She clearly does not belong to the same stage as those exemplary Filipinos. PacMan won in a fair and clean fight. The little girl is honest. The beauty queen is, of course, beautiful. Does GMA belong to the group? She thinks that by association with these model citizens, the people would think that she also has their qualities and achievments. But we know better.